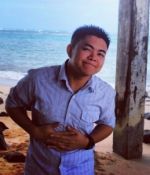 Allen | HPU | Hawaii | 20
instagram: allendominick_

Maroon/Burgundy is my favorite color. I have a weird obsession over school supplies. Music is my way to relax. Food is my best friend, and so is sleep. Can't live without a little bit of sarcasm. I love to laugh, because laughter just makes everything better.